Totals
Total Square Footage
212,775
Total Dollar Volume
$64,000,000.00
General
---
Description
Headquartered at Lakeshore Center in Bridgewater, Massachusetts, Claremont Companies is a privately owned and closely held real estate investment, development, and asset management firm.
The company was started in 1968 when Patrick Carney, Claremont's current Chairman, and CEO, began investing in and developing residential multi-family properties in Southeastern, Massachusetts. Throughout the 1970s and 1980s, the Company established its core real estate holdings by developing large-scale apartment complexes throughout New England.
In the late 1980s and 1990s, the company expanded its real estate development and ownership into different asset classes such as hotels, retail centers, and office buildings.
In 2003, with over 10,000 apartment and hotel units across the United States, Claremont began a disposition strategy in order to capitalize on the overall appreciation of the national real estate market. Today, Claremont owns in excess of 60 real estate assets consisting of hotels, apartments, office, residential estates and vacant and leased land.
Updates
- Aug 21, 2018
Residence Inn Boston Seaport Acquired for $64 Million
The Residence Inn located at 370 Congress Street in Boston's Seaport District has been acquired by the Claremont Companies for $64 million. An additional $13 million was paid in order to continue the hotel services, totaling $77 million.
The hotel building is a 115,000 square foot building that features 120 brick-walled studio and one-bedroom suites with two flat-screen TVs and 12-foot ceilings. Custom wall wrap photography spotlights local landmarks.
The structure was built in 1901 by the Boston Wharf Company and originally known as the Stillings Building, it once served as a sugar and molasses warehouse. In April 2011 the 115,000-square-foot building was purchased for $8 million from Berkeley Investments by Norwich Partners LLC who then began a $45 million renovation of the building turning it into the Residence Inn that it is today.
---
- Aug 09, 2018
Callahan Construction Managers & Claremont Companies Break Ground on Hilton Garden Inn
Callahan Construction Managers & Claremont Companies broke ground last month on the Hilton Garden Inn Brookline/Boston. The upcoming 175 room hotel is ideally located near the Longwood Medical area and the bustling Fenway neighborhood. Amenities are set to include a fitness center, pool, restaurant, and business lounge. The project designed by Cambridge Seven Associates is set to open in spring 2020.
---
- Feb 12, 2017
Updated plans revealed for proposed Brookline Village hotel
Claremont Companies has revealed updated plans for the proposed hotel at 700 Brookline Avenue at the gateway to Brookline Village. Plans now call for an 11-story, 175-guestroom Hilton Garden Inn with a sweeping glass curtain wall designed by Cambridge Seven Associates. A restaurant and a ground-floor cafe with outdoor seating have also been added to the program. The latest plans and renderings for the 700 Brookline Avenue hotel are posted above.
---
- Sep 02, 2016
New 130-room hotel completed in Brookline Village
The new 130-room Homewood Suites Brookline hotel, located in Brookline Village on Route 9 steps to the MBTA Green Line, is now open and complete; the following is a link to the official press release announcing the building's completion. Built by Tocci Building Companies, the hotel features 130 upscale suites with amenities including a swimming pool, a fitness center, outdoor terraces and gardens and meeting spaces. Homewood Suites Brookline opened to guests in summer 2016 and broke ground in July 2014; the hotel's developer is Claremont Companies, who is now proposing a second Brookline Village hotel at 25 Washington Street. Developer The Fallon Company recently acquired 20 Boylston Street, a 12,125 square foot parcel located steps from Homewood Suites Brookline. The following are photographs of the completed Homewood Suites Brookline, courtesy Nickerson PR: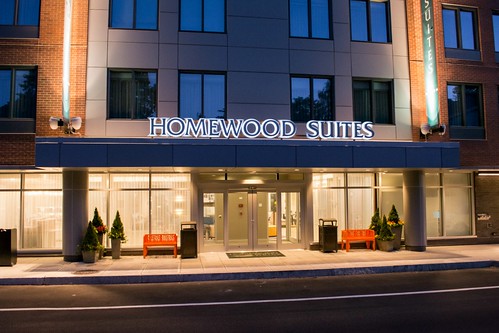 ---
- Apr 03, 2016
J. Derenzo Companies completes demolition at proposed Brookline Village hotel site
J. Derenzo Companies' JDC Demolition division has demolished a former Gulf gasoline station located at 25 Washington Street in Brookline Village. Claremont Companies proposes to build a 168-room hotel on the 18,492 square foot parcel.
Claremont Companies acquired the 25 Washington Street site in January 2016. Plans for the proposed hotel were presented at the Town of Brookline's Economic Development Advisory Board (EDAB) meeting held on January 4th, 2016. The following is a link to the full EDAB presentation.
The 25 Washington Street parcel is currently zoned for industrial use; a zoning change will be required to build the proposed hotel. More information about the proposed hotel is posted below. The following is the deed for Claremont Companies' acquisition of 25 Washington Street as recorded in the Norfolk County Registry of Deeds:
---
- Apr 03, 2016
Finishing touches underway as Homewood Suites Brookline nears June 2016 opening
Exterior finishes have been installed throughout Homewood Suites Brookline's facade. The building now has a strong presence along Route 9 in Brookline Village. Official Homewood Suites signage has been installed along the building's facade. Finishing touches are now underway along the facade and the ground floor targeting Homewood Suites Brookline's scheduled June 2016 opening. Per an update posted on Homewood Suites Brookline's website, the hotel will open to guests in June 2016. Homewood Suites Brookline is currently accepting reservations for arrivals starting June 6th, 2016.
Homewood Suites Brookline is the first of what could be a wave of development projects coming to Brookline Village. Claremont Companies, who is Homewood Suites Brookline's developer, proposes to build a second Brookline Village hotel at 25 Washington Street. The Fallon Company, developer of Fan Pier in Boston's Seaport District, recently bought a 12,125 square foot Brookline Village parcel at 20 Boylston Street. The following are photographs of Homewood Suites Brookline:
More information about Homewood Suites Brookline is posted below.
---
- Nov 08, 2015
We stopped by under-construction Homewood Suites Brookline, where construction is progressing in earnest! Installation of brick exterior finishes has begun, and windows are just about fully installed. Fireproofing is installed throughout the building's facade.
More information about the project is posted below.
---
- Oct 04, 2015
Installation of windows is beginning at Homewood Suites Brookline. Fireproofing has been installed along much of the building's topped-off frame, and sheathing has been installed throughout.
---
To unlock, this organization must be verified.