Project Progress:
Construction Complete
---
About St. Kevin's Residential Redevelopment
The former St. Kevin's Parish in Dorchester's Uphams Corner is getting a new life as a residential development. Developer Planning Office for Urban Affairs, affiliated with the Boston Archdiocese, will restore the old church building as well as build two new buildings on site. 80 total residential units will be built, ranging from 1-3 bedrooms. A 1,000 square foot community space will also be included. The St. Kevin's development will be 100% affordable. 25% of the units will be reserved for formerly homeless families.
St. Kevin's sits on a prominent lot on Columbia Road, Upham's Corner's main street. On a recent walk through, we were impressed by the walkability of Upham's Corner. Key community resources such as Upham's Corner Health Center and Bird Street Community Center are steps away from St. Kevin's. So are cultural offerings such as the widely renowned, gorgeously restored Strand Theater. The architecture of Upham's Corner is also impressive. Many of the buildings date back to the age of the electric streetcar and are built with fine detail and craftsmanship that has kept them standing solidly to this day. There is also convenient public transit access by St. Kevin's. Multiple MBTA bus lines and the Upham's Corner commuter rail station are a short walk away.
St. Kevin's is one of a number of community investments being made in Upham's Corner. Recently, the Fairmount Innovation Lab, a business incubator, opened at the corner of Dudley Street and Columbia Road. It was recently announced that a bike café would open in Upham's Corner. The café will double as a place to work and drink coffee as well as a bicycle store and repair shop. We look forward to seeing Upham's Corner continue to develop into a vibrant, creative community. We are confident St. Kevin's, as well as future residential development, will help establish a 24/7 presence in Upham's Corner and further activate the area as a center of culture and innovation in Boston.
Below is a rendering of the complete St. Kevin's Residential Redevelopment as seen from Columbia Road: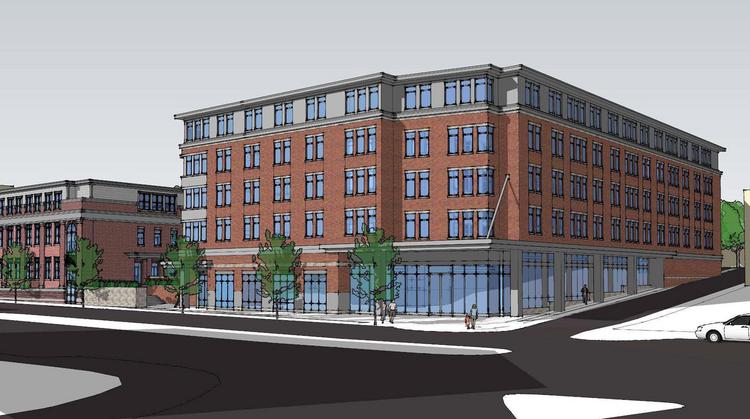 ---
Latest Updates
There are currently no updates.
Latest Press Releases
Recent Comments
There are no recent comments.
Add Comment